Calendar
Leader & Legends Alumni Awards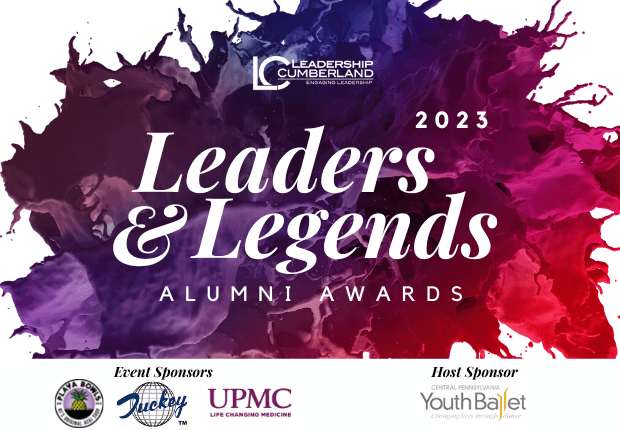 Join us for our Leaders & Legends Alumni Awards Reception where we will celebrate and recognize LC Alumni for their dedication to service, nonprofit leadership, and the community. We will recognize all of our nominees and award 3 deserving individuals with the following awards:
2023 Alumni Awards
Denver Award - Presented by The Tuckey Companies
Named after the late Denver Tuckey, one of our founding members, this award celebrates his legacy and vision to make sure the nonprofit community never ran out of leaders willing to serve. The Denver Award is presented to an LC graduate for their distinguished contributions to numerous not-for-profit organizations, either through their career and/or volunteer work.
Denver Award Nominees
Jeffrey Gayman '99, Orrstown Bank
Barrie Ann George '17, Safe Harbour, Inc.
Lisa Thomas '15, M&T Bank
Judith A Walter '19, Zimmerman's Automotive Tire Pros
Shining Service Award - Presented by Playa Bowls
Named in honor of alumnus, Brooke Butler Wagner '19, this award celebrates her community leadership and selfless desire to see people shine. The Shining Service Award is presented to an LC graduate for their outstanding example of how our fellows are making a difference in the community through their leadership and service.
Shining Service Nominees
Jeff Hawks '13, Army Heritage Center Foundation
Jacqueline Hower '20, Zimmerman's Automotive Tire Pros
Brenda Landis '15, Dickinson College
Megan E. Peterson '16, Central Penn College
#LCProud Award - Presented by LC Leadership
Named affectionately after our favorite hashtag, this award is presented to a program graduate, board, or committee member whose contributions have significantly impacted Leadership Cumberland's mission and programming.
[Nominations for this award are chosen by the LC Board of Directors]
#LCProud Award Nominees
Taylor Griffiths '16, FEMA
Sherry Hoover, UPMC Carlisle
David Metz, Morgan Stanley
Dennette Moul '10, Dickinson College
Tickets (include Hors d'oeuvres and Open Bar)
$35 per LC Alumni Association Member | $50 Non-Member
Group Tickets
$250 - 4 Tickets | $500 - 8 Tickets | $750 - 12 Tickets *These Ticket Packages Include an Ad in the Program
Event Sponsors:
Playa Bowls Carlisle
The Tuckey Companies
UPMC
Host Sponsor: Central Pennsylvania Youth Ballet
Award Sponsor: Mountz Jewelers