Calendar
Leaders at Lunch: Honoring the Hampden Township Veteran's Recognition Committee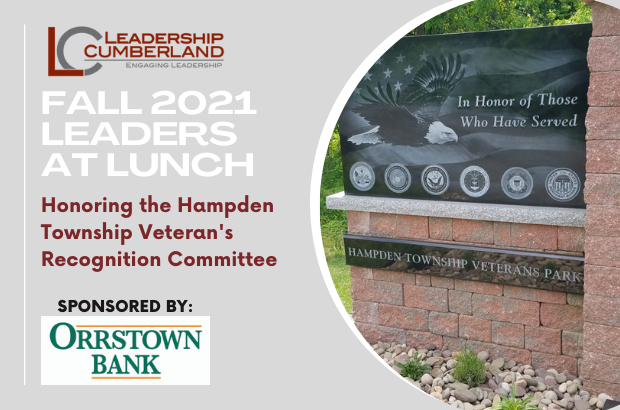 Join us as we celebrate the accomplishments of the Hampden Township Veterans Recognition Committee and their outstanding community leadership in the development of Veterans Park and Captain Leon Lock Veterans Memorial.
The Hampden Township Veterans Park is for members of the community to gather for celebrations and observances in honor of veterans. The park's trails feature twelve granite etched monuments that commemorate conflicts the U.S. military has fought in throughout our country's history. The memorial will feature an amphitheater centered on the existing United States Flag and flags representing the six individual military services – Army, Navy, Marines, Air Force, Coast Guard, and the Merchant Marines. Each year the park honors veterans with Memorial Day and Veteran's Day celebrations and hosts over 10,000 visitors.
Note: We will follow all CDC guidelines and recommendations at the time for this event.
Tickets:
$35/person with Lunch
$210/VIP Table for 4 - (reserved 1/2 table for 4, ad in program)
$350/ VIP Table for 8 - (reserved table of 8, ad in program)
Series Sponsor: Orrstown Bank
Awards Sponsor: Mountz Jewelers