Calendar
2023 Spring Leaders at Lunch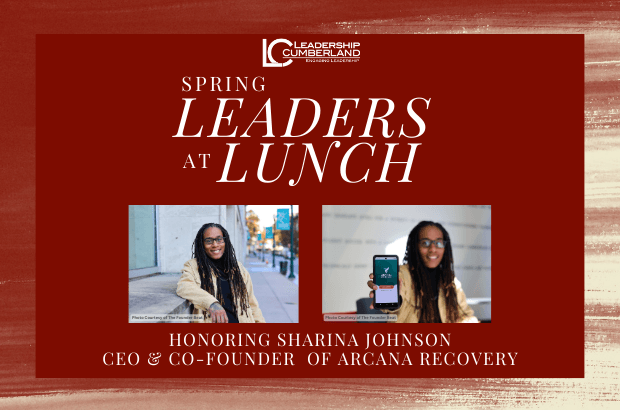 Spring Leaders at Lunch: Honoring Sharina Johnson, CEO & Co-Founder of Arcana Recovery
Series Sponsor: Orrstown Bank
Awards Sponsor: Mountz Jewelers
In 2021 Sharina Johnson, a combat veteran, created Arcana Recovery, an AI-driven mobile app to provide full-service streamlined support to people living and thriving with substance abuse disorder after her own battle with substance abuse. In the Fall of 2022, her company was one of five highlighted as recipients of an investment from Ben Franklin Technology Partners TechCelerator Program in addition to working with Harrisburg University's Center for Innovation & Entrepreneurship (CIE) to develop Arcana. "Love and empathy are very important to people living with substance use disorder. We are capable of making our own decisions, but we definitely need a support team that wants us to be great. Arcana does just that," said Johnson.
Join us as we honor Sharina Johnson, CEO and Co-Founder of Arcana Recovery for her courage and commitment using her experiences to help others on their recovery journey. We will also hear from Jay Jayamohan, Executive Director of the Center for Innovation & Entrepreneurship at Harrisburg University of Science and Technology, and a Mental Health Panel discussion with representatives from UPMC and Penn State Health.
Tickets:
$45/person with Lunch
$245/VIP Table for 4 - (Reserved 1/2 table for 4, ad in program)
$425/ VIP Table for 8 - (Reserved table of 8, ad in program)
Menu
Mixed Baby Greens with Fresh Sliced Strawberries, Crumbled Goat Cheese, and Candied Pecans
​​​​​​​finished with Poppyseed Dressing
Choice Of:
Caprese Chicken (GF)
Roasted Chicken Breast topped with Roma Tomatoes, Fresh Mozzarella, and Basil Oil and finished with a balsamic reduction
Served with Garlic and Fresh Herb Roasted Potatoes and Roasted Asparagus.
- OR- 
Loaded Portobello Mushroom (Vegetarian/GF)
Portobello mushroom stuffed with roasted zucchini, yellow squash, red onion, red pepper, and spinach finished with balsamic reduction. Served with Garlic and Fresh Herb Roasted Potatoes.
Cherry Topped Cheesecake
*If You Have Special Dietary Needs Please Contact Leadership Cumberland Directly To Let Them Know